How do you rate as dad? Vincent Leong of HealthAnswers finds out what happens when busy fathers miss out on the lives of their kids.
What's The Centre for Fathering?
Find them at Centre For Fathering (CFF), or call 455 0038. Or email them at fathers@singnet.com.sg.
Mission
: Turn the hearts of fathers to their children
How
: Conducting seminars every month
Activities
: Camps, canoe races, talks, etc
It is the Father-Child Bonding Camp organised by the Centre for Fathering (CFF). Robert Koh is taking a rare one-day leave from his work as a banker to bring his 12-year-old son to this camp.
Betrand Koh, 12, is exhausted with his climb up a rock wall. Robert, lowers him to the ground by giving him more rope. Disappointed that he didn't reach the top of the wall, Bertrand walks over to a shady tree to rest - and fume. Robert joins his son a minute later. Robert talks to his son, encouraging him, giving him tips and advice. He shares with his son his perspective of the obstacle, having seen it from the ground up, instead of close to the rock face like Betrand has. When Betrand is rested and recharged, he stood up and scales the wall once again.
Camps For Bonding
The two-day camp is organised by the Centre for Fathering, an organisation dedicated to build strong fathers for strong families.
"Singapore fathers have very little time to play with their children," explains Wong Suen Kwong, one of the organisers of the camp and a founder of the Centre For Fathering, explaining the unusual bonding camp. "Children like adventures, and fathers like challenges. Hopefully, this experience can be translated into life, and the children here will gather that their fathers will be behind them giving support all the time."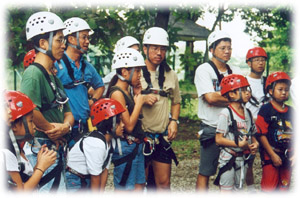 Robert agrees. He sees the Bonding Camp as an opportunity to spend time with his son more than anything else.
He says: "We modern-day fathers work long hours and spend little time at home. This is really a good opportunity to spend time with my son, and I hope to better understand his thoughts, his needs, and basically enter his world."
The Need To Learn Fathering
The Centre for Fathering here is affiliated to the National Center for Fathering(NCF) in the United States. A non-profit organisation, the CFF is a community service project supported by the Ministry of Community Development and Sports (MCDS).
According to a study by the MCDS, more than one third of 92 boys surveyed at the Singapore Boys' Home said their fathers were too strict or had neglected them. In another study done in 1997 by the National Youth Council and the Centre for Business Research and Development, out of 600 youths surveyed, none named their fathers among the top five sources for advices or help.
The Centre for Fathering therefore is a long needed "guiding light" to many fathers and fathers-to-be. The men behind it are Edwin Choy, Raymond Koh, and Suen Kwong; three good friends who share the passion for community work. All three of them are fathers of young children themselves.
They started replicating NCF's efforts and programmes here after Edwin attending an NCF seminar in the US, and found it informative and helpful.
How To Be A Good Dad?
Principles Of The Four "I Cans" Of Fathering:
Involvement
Consistency

Awareness
Nurturance
Source: In The Heart Of The Father, by Ken R Canfield, PhD.
Speaking at a seminar on the role of the father in April this year, Dr Joseph Ozawa, head of the Psychological-Services Unit of the Ministry of Community Development and Sports, said fathers need to listen to what their children are telling them and not just lecture them or put them down. He said their first step begins with admitting their own shortcoming as fathers.
Raymond suggests "awareness" and "involvement" as two key pointers that fathers can work on to improve their relationship with their children.
"It starts with awareness of ourselves, and awareness of our role as a father," Raymond says. "Studies have shown that many social problems that we have, like juvenile delinquency, for example, is often associated with a lack of awareness from their parents. Fathers are often very involved in their work but not in their children and their emotional development."
He suggests these fathers spend more time with their children, taking time from their precious golfing hours, or watching football on television, and sit down with their children to talk to them. He says fathers can help them with homework, talk to them about school and their friends, and basically getting inside their world.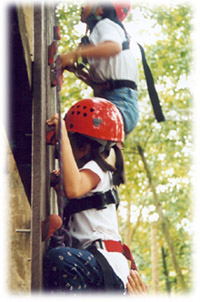 "Our fathering style is mainly based on what we've learned from our own fathers. The consensus of the adult participants here at the bonding camp is that our fathers were undemonstrative, uninvolved, and there was little communication between us when we were young," says Robert. "Most of us, we are unsure of our role as fathers, and this Centre is something that I have been looking for that can help me find my answers."
Men Don't Cry
For all their aims, however, the biggest obstacle is that fathers are not prepared to admit they have a problem bonding with their children. Mothers are more ready to come forward when they need help. Men, on the contrary, are apprehensive, unprepared to ask for directions, and sceptical of the help CFF offers.
Ironically, Raymond says, it is the fathers that are the most apprehensive that the Centre wants to reach out to. "That is our main challenge. We have to go out and convince these fathers that we are not an organisation that is out there to blame fathers, that we are struggling fathers ourselves, with our own families, with our own work."
Also, although the founders of the CFF are Christians, they plan to run the Centre here, modelled after the NCF, as a secular organisation. They are working with SINDA (Singapore Indian Development Association) and going to schools to give talks to parents. The Minister for MCDS has also encouraged them to work with Muslim groups.
The mould of the "negligent father" that CFF wants to break is not a cultural mould, but an uninvolved father that can be found anywhere in the world. "We are hoping to break this mould of a 'neglectful father," says Raymond. "He is usually only aware of his bread-winning role in the family, and not see his other roles."
Says Raymond: "We want to encourage fathers to express their love for their child in their own way. The idea is showing affection, and it is not western, or Christian, but universal. You may show your affection in the way that your you do in your culture."
Date reviewed: 11 July 2000