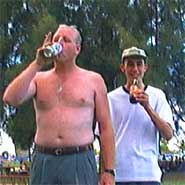 Releasing its first-ever formal Position Statement on Men's Health, AMA President, Dr Bill Glasson, said the AMA Position Statement is a direct response to the fact that the overall health of Australian men is generally poorer when compared to Australian women, and getting worse.
"The poor state of men's health is a significant public health problem for Australia," Dr Glasson said.
"Due to a combination of apathy, ignorance and arrogance, Australian blokes just don't consider regular check-ups with their GP a priority.
"But they have to get rid of this 'she'll be right, mate' mindset.
"In 2005, Australian men have lower life expectancy, increased cardiovascular mortality, and increased rates of injury, poisoning and suicide than Australian women.
"While social, environmental and work factors influence the patterns of wellness and illness for men and women, gender stereotypes are also significant.
"When it comes to health and vulnerability, many men believe that nothing can harm them.
"Research shows that men often have a functional view of their bodies, which means that they don't think they are sick until something is not working properly.
"It is only when their work, play or exercise is below par, or when their sexual performance or everyday social interaction is suffering that they understand there may be a problem.
"If screening or health promotion activities are to be put in place and to be effective, men have to start being more aware and alert about their personal health.
"We hope our Position Statement can generate greater awareness of men's health and encourage more men to get into the habit of monitoring their health and seeing their GP regularly," Dr Glasson said.
The AMA Position Statement on Men's Health is available at http://www.ama.com.au/web.nsf/doc/WEEN-6B56Y2